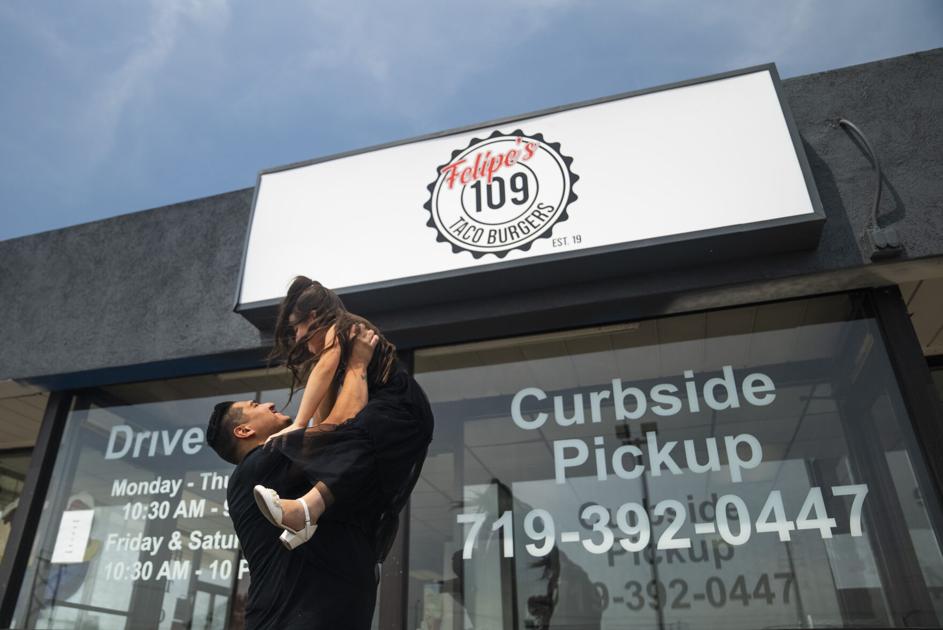 An American dream, of family, future and good food | Colorado Springs News
It was the place you passed on your way to somewhere else, maybe pondered while marking time at the light at S. Academy and Hancock in Colorado Springs.
A squat square with 80s fast food bones, perched a sandwich-toss from two major thoroughfares ("excellent signage and traffic!") but accessible by car only via a snaky back route through a church parking lot, down a street that doesn't have a name because it's not technically a street.
Wasn't it a gyro joint before?
I remember tacos. And, Chinese food. And burgers. (All true).
The history of 3008 S. Academy Blvd. is a global culinary crawl of startup hopes, good food, and vacancy. Then one day in early 2021, you see the building's got fresh paint and a new sign, and can't help but wonder: Who would open up a restaurant there, especially at a time like this?
Twenty-nine-year-old former firefighter Robert Felipe Velasquez is that guy. He knows he's facing an uphill battle, but he also knows what he's fighting for: family and future.
"Yeah, it's a bit of a pickle to get in here … but God has been good to us. We continue to get faithful people who were with us when we were in the truck, and still come out to support us," he said in early March, a month after transitioning Felipe's 109 from a food truck operation to its new brick-and-mortar base.
Failure is a worry, certainly, but it's not an option.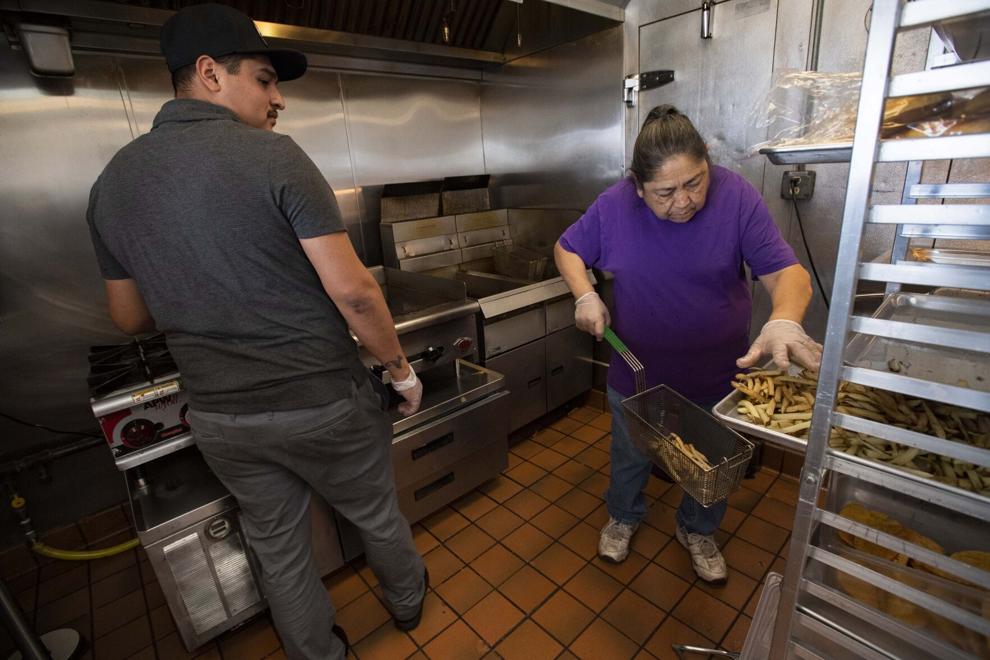 "When all the other doors are closed and you only have one path you can take, you just walk through the door believing you'll be able to make it," he said. "You have to believe that the American dream is going to happen, someway or somehow, and we're just going to have to figure it out."
It's important to know where you're going, even if you're not sure how to get there — or what there will look like once you arrive. For Robert Velasquez, the destination was always "something entrepreneurial, something successful," said his wife, Jenna.
"He's always been very generous, kind, really funny — and also really optimistic," Jenna said. Those qualities were what first drew her to her future husband when the two met and became friends at church, as teens. After eight years of marriage and three kids, though, Robert's world-class optimism has led to some tough, and emotional, conversations.
"He really is a dreamer. Daily, he's, like, 'Oh, we could do this,' or 'This would be such a great invention or this is such a great business idea ….' He doesn't like being told 'no,'" said Jenna, who added that, by contrast, she tends to live in the moment and get overwhelmed thinking about what's to come. "I think we complement each other nicely. My job is to support him but say, 'Those are great ideas but maybe you shouldn't do them all.'"
Growing up in the Springs, Robert and his sister, Shanity, had talked about opening a restaurant with their grandmother, Evelyn Tilden, a naturally-gifted chef who'd gone to culinary school but ultimately had to abandon the calling. When he was 18, Robert and Evelyn even started a grassroots burrito business, making the wraps and selling them to office workers in businesses around the Springs.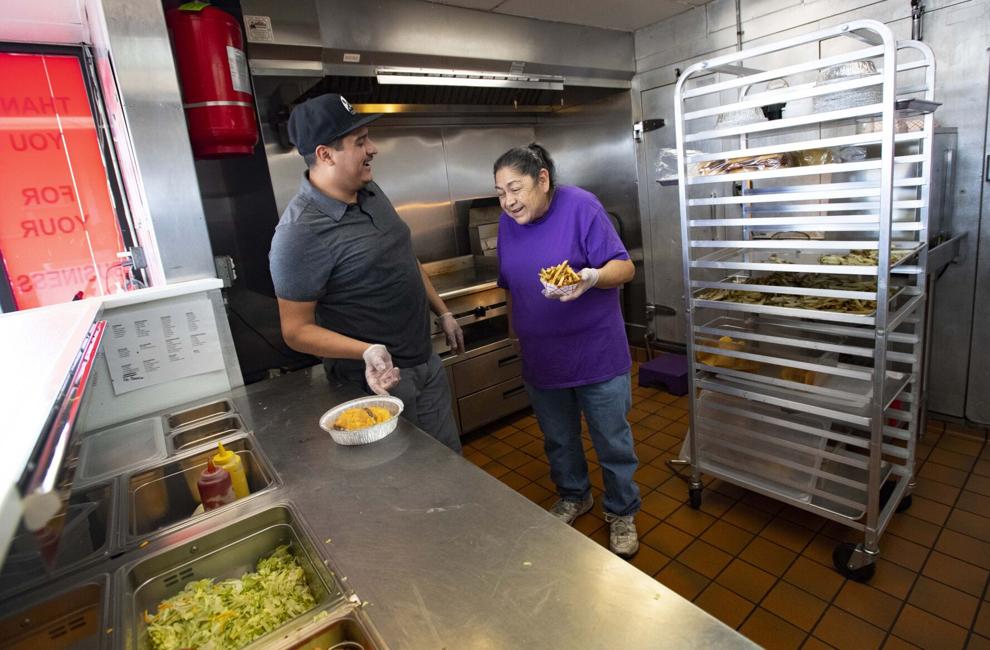 The experience got his entrepreneurial juices flowing, but after he graduated from high school in 2010, a different burning passion was at the top of his list.
"One of the things I heard growing up was, 'I let go of my dreams to raise you,'" he said. "I always knew I wanted to be a firefighter….and if I didn't follow my dreams, what am I supposed to say to my own children?"
Robert and Jenna married in 2013, and Charlotte was born late that December. Robert had been working in construction and they'd been saving up their money to buy a house. The following year, he applied and was accepted into the City of Fountain's eight-month Fire Academy. He graduated in October 2016 and went straight into EMT training. He was wrapping up that program in May, 2017, when baby Leo arrived.
All those plans — and the world as he knew it — changed forever.
"Leo had all these complications and was in and out of the hospital for about eight months, and three months solid during the summer," said Robert, whose infant son wasn't gaining weight and was struggling to breathe. "He was choking and turning blue. And we didn't know what was wrong. No one did."
It would be almost two years before Leo received an official diagnosis: a rare syndrome caused by a genetic mutation that causes microcephaly, and severe developmental and neurological delays. Leo also suffered a brain injury at birth that left him with cerebral palsy and vision impairment.
His and Jenna's lives now revolved around caring for a severely ill special needs child. Dream jobs would have to wait, for now.
"The fire department was amazing to us, with (colleagues) donating sick hours to us while he was in the hospital, so we could continue to get paid," Robert said. "The fire department was such a dream for me to do, and it was a dream that came true."
It was a dream that wasn't meant to last. Dealing with medical trauma at home and again at work would soon prove to be too much.
"He had a really hard time going back and getting into the groove of that after our son," Jenna said. "He's always had such a big heart and is kind to everybody. He just wants to take care of everybody…."
Suddenly, he couldn't. The universe had said, "No." Or, at least, "not like this."
"How can I help someone else when I can't even help my own kid at home?That's how I felt at the time. I loved the fire department, but I just couldn't juggle both," said Robert, who became qualified as an EMT on his 26th birthday, March 20, 2018, but left the department the following year, returning to the lucrative but stop-gap construction work he'd done after high school.
That's what he was doing, while planning his next move, and spending as much time with Jenna, Charlotte and Leo as possible, when the pandemic hit.
"People are being furloughed, every week there's the conversation, 'Are we going to close down?' Or, 'This guy's got COVID and he's in the hospital,'" said Robert, whose son is immunocompromised and especially vulnerable to the virus. "There were so many variables. I figured, either I could be out of a job next week or need to make something else happen."
By then, though, he'd already figured out what that next move would be. He and Shanity's old schemes about starting a restaurant business were back on the table, and the wheels were spinning.
Robert sought a loan in February, 2020, but couldn't get approved for enough money to fund a start-up restaurant. He'd "never run a food truck before, didn't have food truck friends," and had no idea how to go about promoting a business on social media. They'd work out those details later.
"We figured, we can afford a food truck…so we started looking for a used food truck," said Robert.
At first, Jenna said she pushed back.
"I understand why he left the fire department, but then jumping right into starting into a food truck … I was, like, 'Oh my gosh, this is crazy. This guy is so optimistic I can't even handle it,'" she said.
As long as there was any room for hope, she knew her husband would find it. She also knew he wasn't going to give up.
"I finally realized that this is the start of his dream and probably a step in the right direction," she said. "People said he was crazy for opening a food truck during a pandemic, but he would say 'It's perfect timing.' We've learned a lot in less than a year."
Among those lessons: Don't take a hard turn in a food truck if your cabinets aren't bolted shut.
Also, if you're going to buy a stick-shift food truck, make sure you're not the only one who can drive it if you ever want to take a day off.
"Let's just say the food truck business ended up being a little more overwhelming than we thought it was going to be," Shanity said.
Thanks to a willingness to work 17-hour-plus days, take last minute-gigs and maintain flexible hours, the "New Mex" offerings at Felipe's 109 was earning a following and growing presence in Springs within its first few months of operation. Things were "insanely busy," but looking up, Robert said.
Then came another pivot, that had nothing to do with pandemics.
On October 9, 2020, Jenna gave birth to the couple's third child, Georgiana. As a newborn, she displayed many of the same symptoms Leo had, though less severe. She still struggles to swallow, and must be fed through a gastronomy tube.
Robert's search for a brick-and-mortar location became top priority.
"At this point, I call Shanity and say we're going to have to let the food truck go. I can't be driving all over the place, finding a place to go next, being up all hours of the day and night," Robert said. "We need a place to call home, where at the end of the day when everything is crazy my family knows where to find dad. We are not giving up on our dream, and we're not giving up on our family."
After a series of potential locations and deals fell through, Robert asked someone at his church, Victory World Outreach, if they knew anything about the vacant restaurant at the postage stamp corner of the massive parking lot.
Sure, other businesses there hadn't been able to make it. But they weren't him.
He got the owner's number, called, and explained his "situation." The man asked about a fall-back plan.
"'There's no Plan B. This is what we're going to do and this is how we're going to do it,'" Robert told him. "He said, 'We can work with this.'"
Despite initial misgivings about the location and its track record, Robert said he eventually came around.
"What do you do? Take a risk, or do you try to figure out another game plan? If you're working on plan B, how are you going to work on plan A?" he said.
The new Plan A is a lot bigger than just a business model, though.
And the restaurant is more than just a restaurant that serves out-of-this world taco burgers.
"Yes we serve food, but we're also here to serve in the community, and raise awareness and support for the special needs community," Robert said. "That's where God has put us for some reason."
A place that may not be the easiest to get to, but that's absolutely worth the trip.