China is saber rattling in the food world once again over a perceived link between Covid-19 and its imports of frozen goods.
This time, it's Beijing making the noise. The city government told companies to avoid importing frozen food from high-risk nations — without outright naming any. In recent weeks, the Asian country has banned imports from plants in Ecuador, Brazil and Indonesia, disrupting trading channels.
Beijing's commerce bureau says Chinese customs and local governments have repeatedly detected traces of the pathogen in imported cold-chain foods at a time when foreign food companies continued to report new coronavirus infections.
But at the same time, the international community has repeatedly stressed that there's no concrete evidence the virus can be transmitted through food and packaging, and experts remain doubtful that it's a major threat.
It was one of several trade-related food stories this week.
In the U.S., the Trump administration is asking the International Trade Commission to open a probe into whether a surge in blueberry imports in recent years is harming American growers. The step appears aimed at winning over growers in Georgia, Michigan and Florida, all states in which President Donald Trump faces strong competition in his bid for re-election. Any trade restrictions as a result of the probe probably would come after the November presidential election.
Meanwhile, the U.S. has blocked imports of palm oil and palm oil products from Malaysia's FGV Holdings, one of the world's largest producers. The order is based on what American authorities say is information that "reasonably indicates" the use of forced labor. The move is the latest blow to the palm oil industry after the spread of the coronavirus shuttered restaurants, curbing demand for cooking oil.
— Millie Munshi in Denver
Charted Territory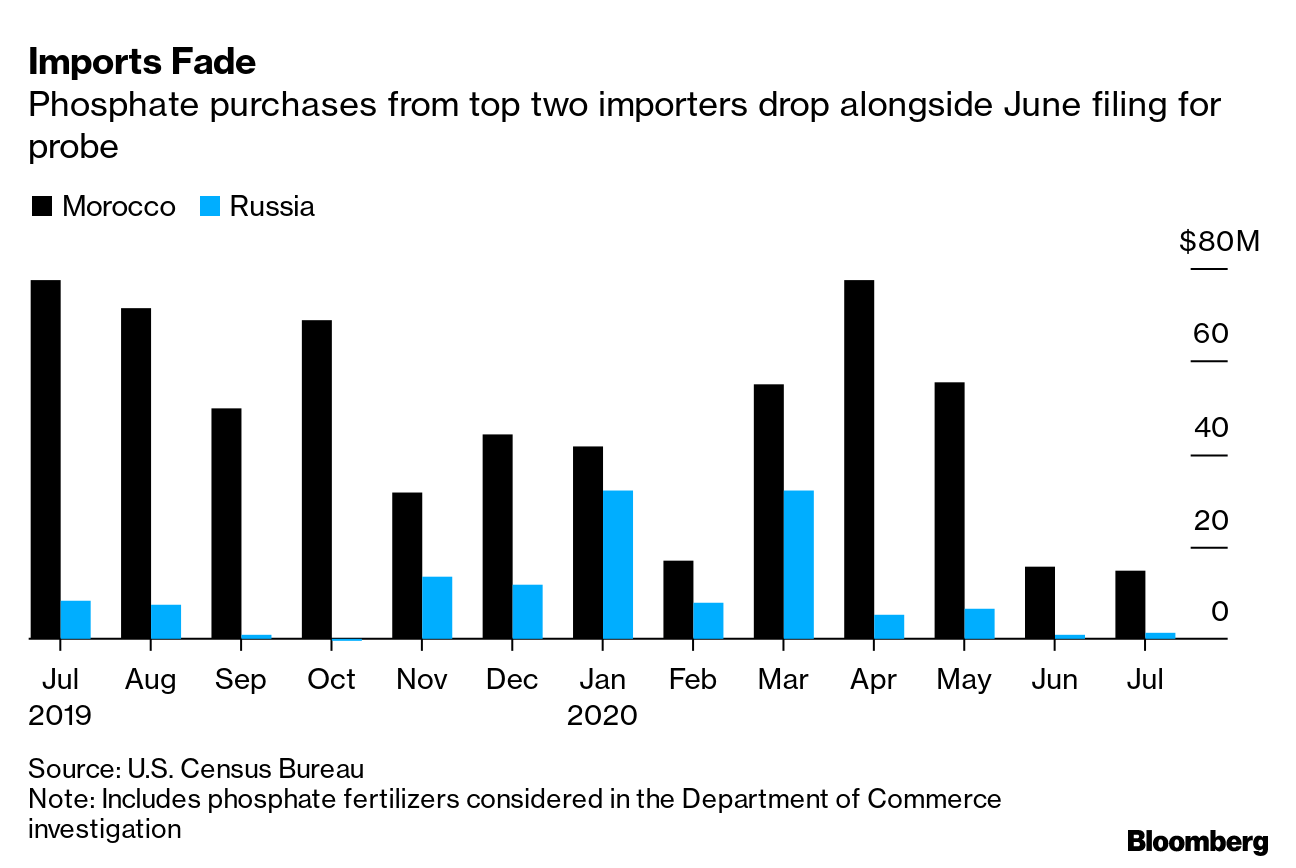 Phosphate fertilizer prices in the U.S. corn belt had their best quarter in a decade as buyers cope with a supply shock caused by potential import duties against Morocco and Russia. Prices spiked after U.S. fertilizer firm Mosaic Co. petitioned the U.S. Department of Commerce and U.S. International Trade Commission in June, saying that fertilizer imports from Morocco and Russia were unfairly subsidized. That prompted an investigation and raised the prospect of countervailing duties.
Today's Must Reads
Save the Date
De-globalization or re-globalization? Following the pandemic, will companies move their supply chains out of China? Join us virtually on Oct. 6 at 1 p.m. Hong Kong/Singapore time (GMT+8) to hear insights from Australia & New Zealand Banking Group Executive International, Institutional Farhan Faruqui, U.K. Trade Commissioner for Asia Pacific Natalie Black and FutureMap founder Parag Khanna. 
Register for free here to be a part of this live, interactive conversation, or to access all content on-demand at your convenience.
On the Bloomberg Terminal
Snacking at home | Elevated levels of at-home food purchases stemming from the Covid-19 pandemic may boost Conagra's sales for the remainder of fiscal 2021, in our view, Bloomberg Intelligence writes.
Inflection point | Agricultural commodities are approaching good resistance in a bear market in transition, as we see it, according to Bloomberg Intelligence.
Use the AHOY function to track global commodities trade flows.
Click HERE for automated stories about supply chains.
See BNEF for BloombergNEF's analysis of clean energy, advanced transport, digital industry, innovative materials, and commodities.
Click VRUS on the terminal for news and data on the coronavirus and here for maps and charts.
Like Supply Lines?
Don't keep it to yourself. Colleagues and friends can sign up here. We also publish Balance of Power, a daily briefing on the latest in global politics.
For even more: Follow @economics on Twitter and subscribe to Bloomberg All Access for full global news coverage and two in-depth daily newsletters, The Bloomberg Open and The Bloomberg Close.
How are we doing? We want to hear what you think about this newsletter. Let our trade tsar know.