Crockpot Brown Sugar Ham has a quick prep, and requires minimal effort. It's our favorite way to make a holiday ham!
Crockpot Brown Sugar Ham is a holiday classic! Served with Funeral Potatoes, Brussel Sprouts and Rolls, you can't go wrong with this simple slow cooker recipe, perfect for family get togethers.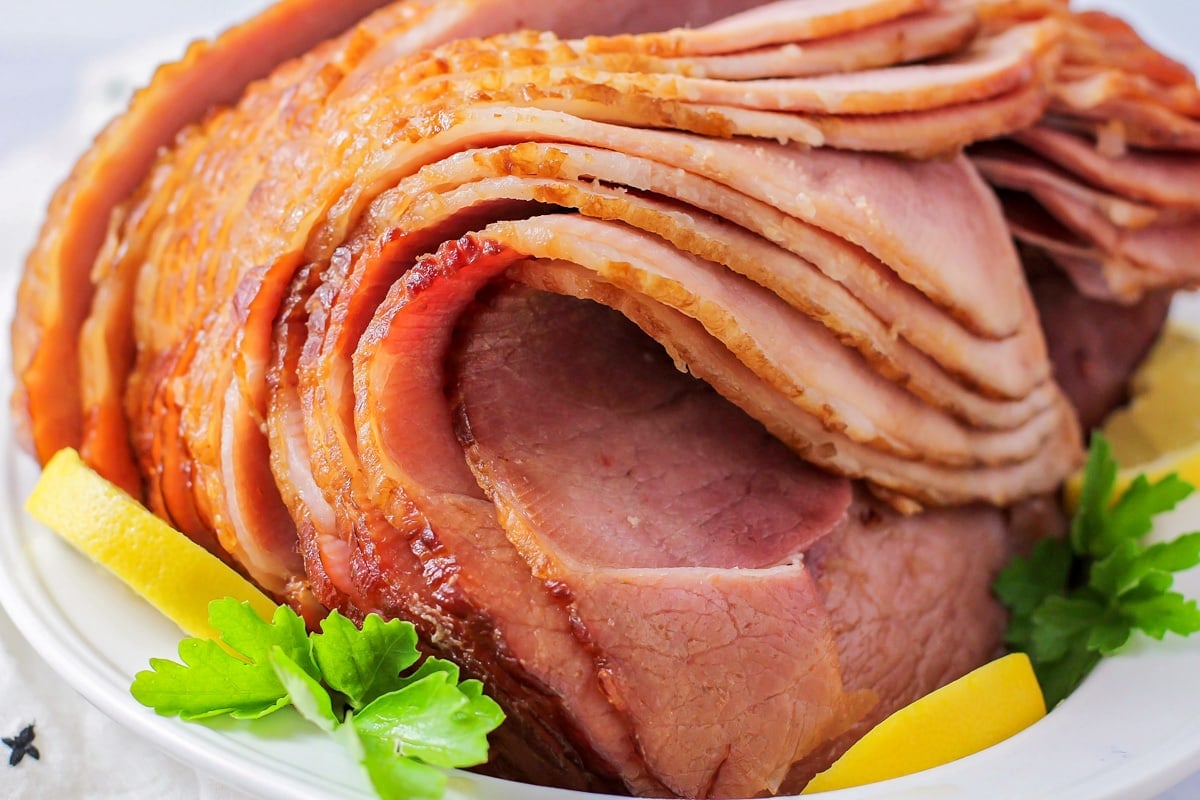 Holiday ham
Ham is one of those foods that we don't typically have on an average weeknight. Sometimes we'll have it for Sunday dinners, but you better believe it ALWAYS makes an appearance at holiday dinners!
Whether it's Easter dinner, Thanksgiving, or Christmas, I can count on enjoying my aunt Georgie's Crockpot Brown Sugar Ham.
It is the juiciest, sweetest ham you'll ever try. With a delicious glaze made from brown sugar and pineapple juice, it's impossible not to love it! The best part? It's SO easy to make!!
Most of it is done in the crock pot, which makes this slow cooker ham recipe even better!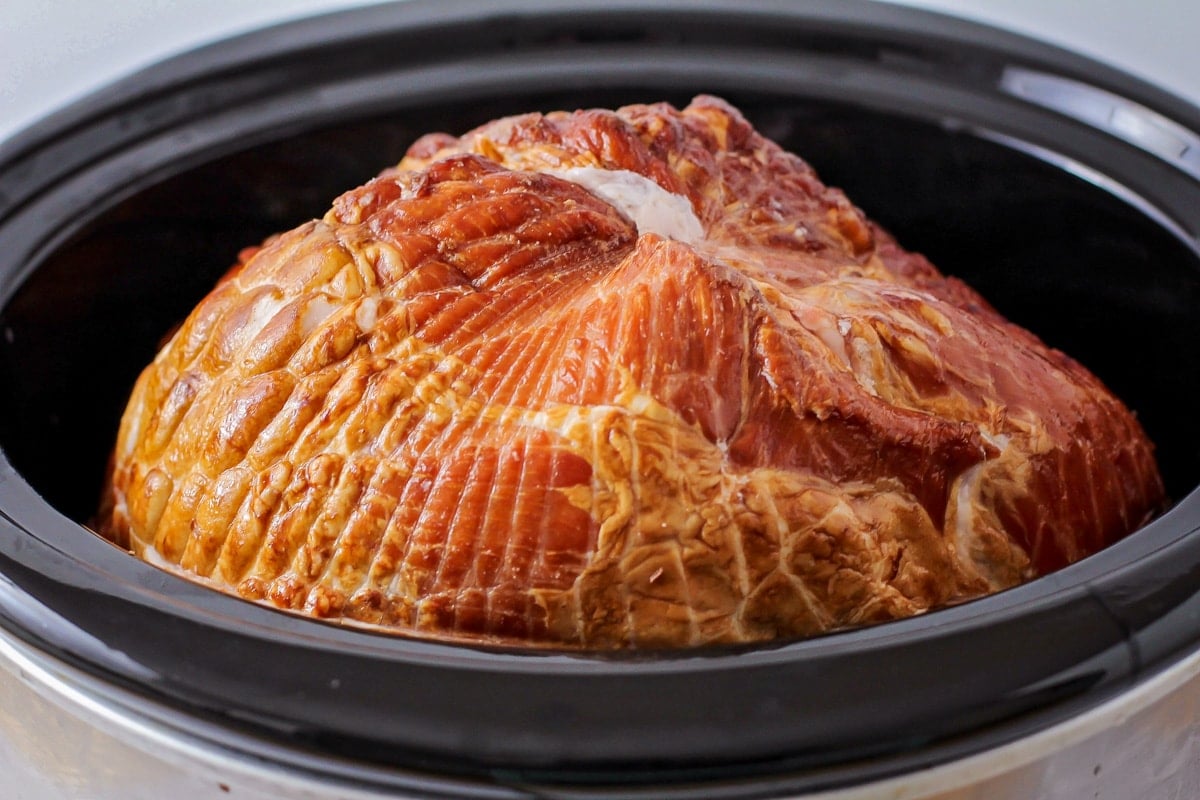 how to cook ham in a crock pot
This ham is made in the slow cooker which translates to EASY!!
PREP. Add your ham to a greased slow cooker, cut side down.
SEASON. Rub 1 cup brown sugar all over the ham, then pour the syrup and pineapple juice over the top.
COOK. Heat in a slow cooker on LOW for 3-4 hours. Remove the excess liquid in the slow cooker into a separate pot. Make the glaze (recipe below) and pour it over the sliced ham in the crock pot. Cook on warm/low for an additional 30 minutes to an hour.
SERVE. Remove this easy crock pot ham to a platter, and garnish with fresh herbs.
How much ham per person
Bone-in ham – ½ lb per person, or 1 lb per person if you want lots of leftovers!
Boneless ham – ¼ to ⅓ pound should do the trick.
Depending on the size of your crockpot, it might only be able to fit 7-8 pounds of ham. If you need more than that to feed your guests, you may need to borrow an extra crock pot or two!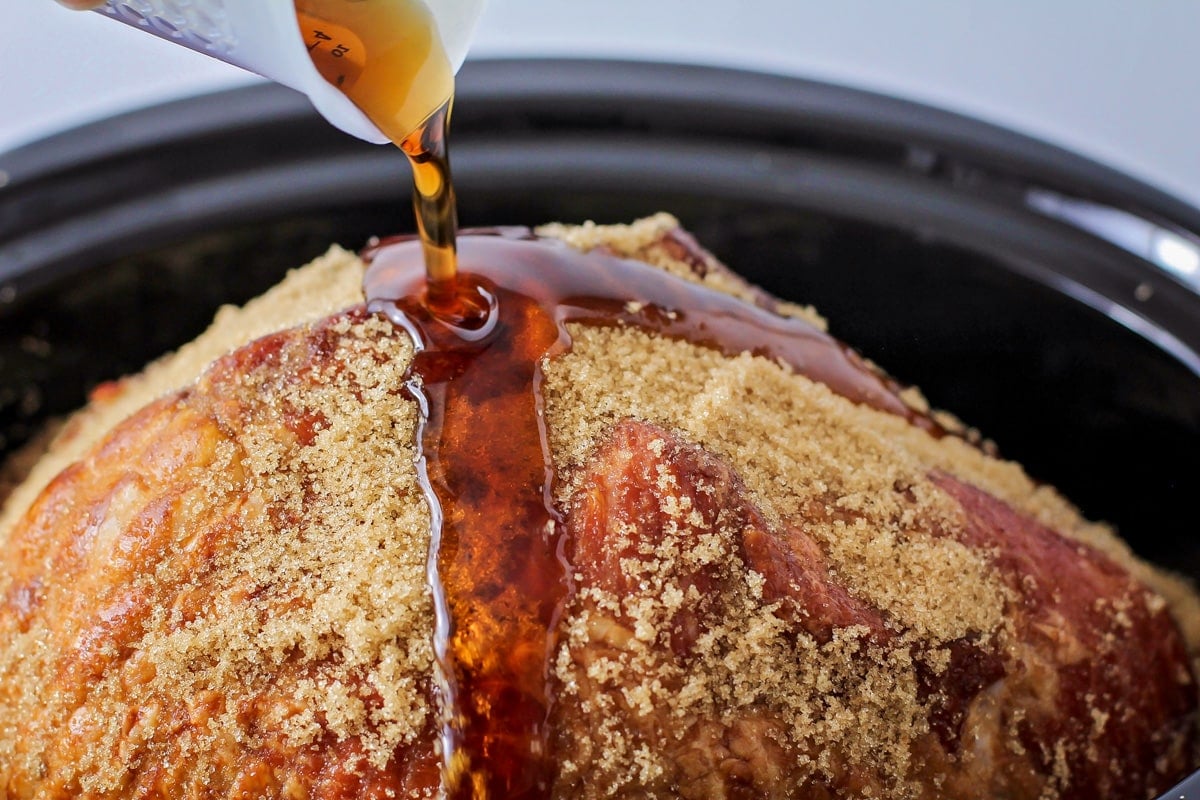 Brown Sugar Glaze For Ham
This glaze might be simple, but it packs a lot of flavor! It's perfectly sweet, to compliment the flavors of the meat. All it takes is three ingredients:
leftover juices from cooked ham
brown sugar
pineapple juice
COMBINE. Just mix the ingredients in a saucepan on the stove.
BOIL. Bring to a rolling boil, stirring occasionally.
GLAZE. Pour the sauce over the ham, cook in the crock pot a little longer, and you're set.
This brown sugar ham glaze is amazing! If desired, try adding additional spices to taste: ginger, ground cloves, cinnamon, or nutmeg.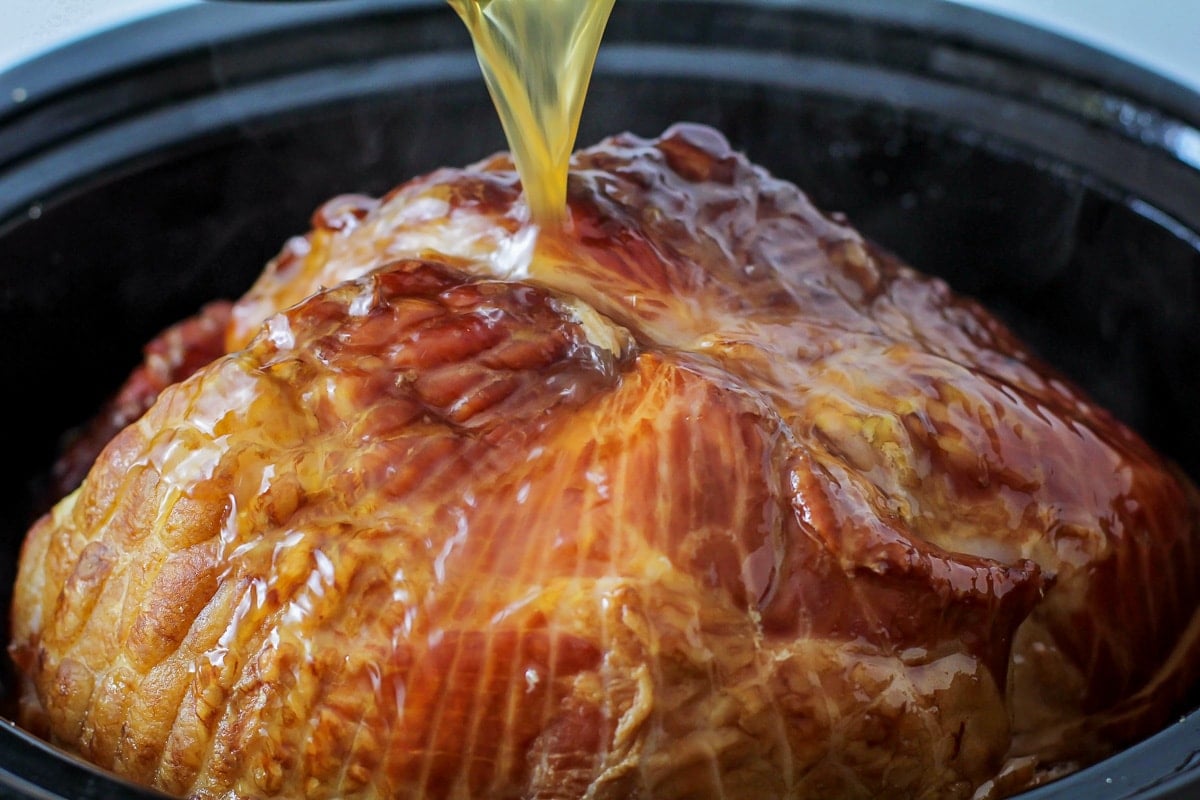 Recipe Tips
Crock Pot Tips. This spiral ham is already cooked through, so using the slow cooker is to add flavor, and warm it up. Some crock pot cooking tips:
Don't put frozen meat in a crock cot. Even though this ham is already cooked, you still need to make sure to thaw it beforehand.
Plug in the pot, and start heating it up while you prepare the ingredients for the dish.
High on a crock pot is about 300°F. Low is about 200°F. One hour on high equals about two hours on low.
Use the right size crock pot. The ham should fill the pot between ½ and ¾ of the way. 
Avoid removing the lid. It takes 20 minutes for the pot to return to the set temperature. 
Spiral cut ham. This type of ham is really convenient because the precooked ham has been pre sliced as well. A butcher begins making a continuous cut from one end of the ham to the other. (It makes me think of using a vegetable peeler to peel an apple in one continuous spiral.)
These pre-cut, even, slices make it easier to serve the ham at dinner. Spiral ham can come in both bone in and boneless forms.
Bone-In: like the name states, it still has the ham bone in tact, and is supposedly more flavorful than boneless.
Boneless: doesn't have a bone, which allows for easier cutting and serving.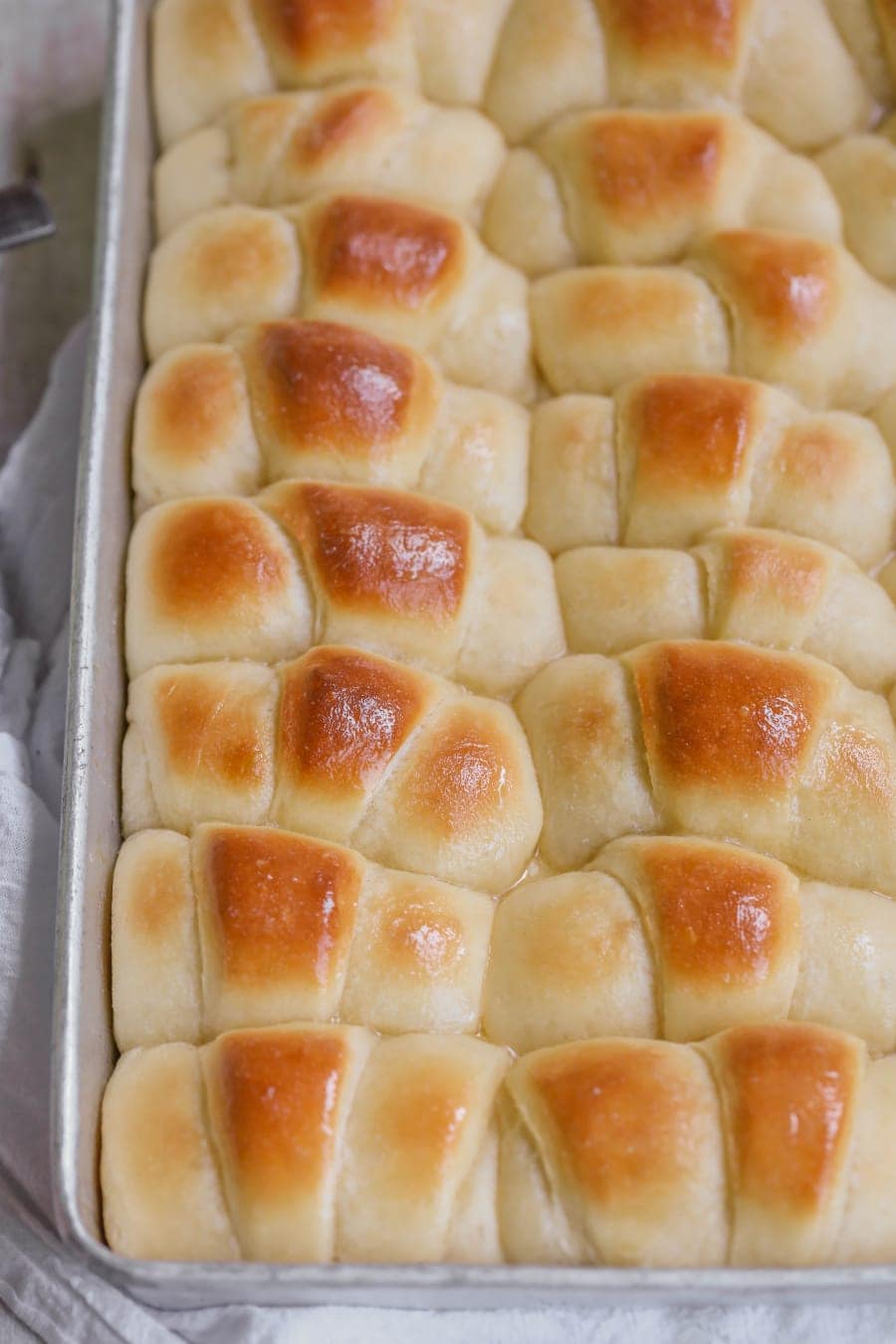 side dishes for ham
This Crock Pot Ham recipe leaves plenty of oven space for all of those delicious sides! Here are some of our favorites: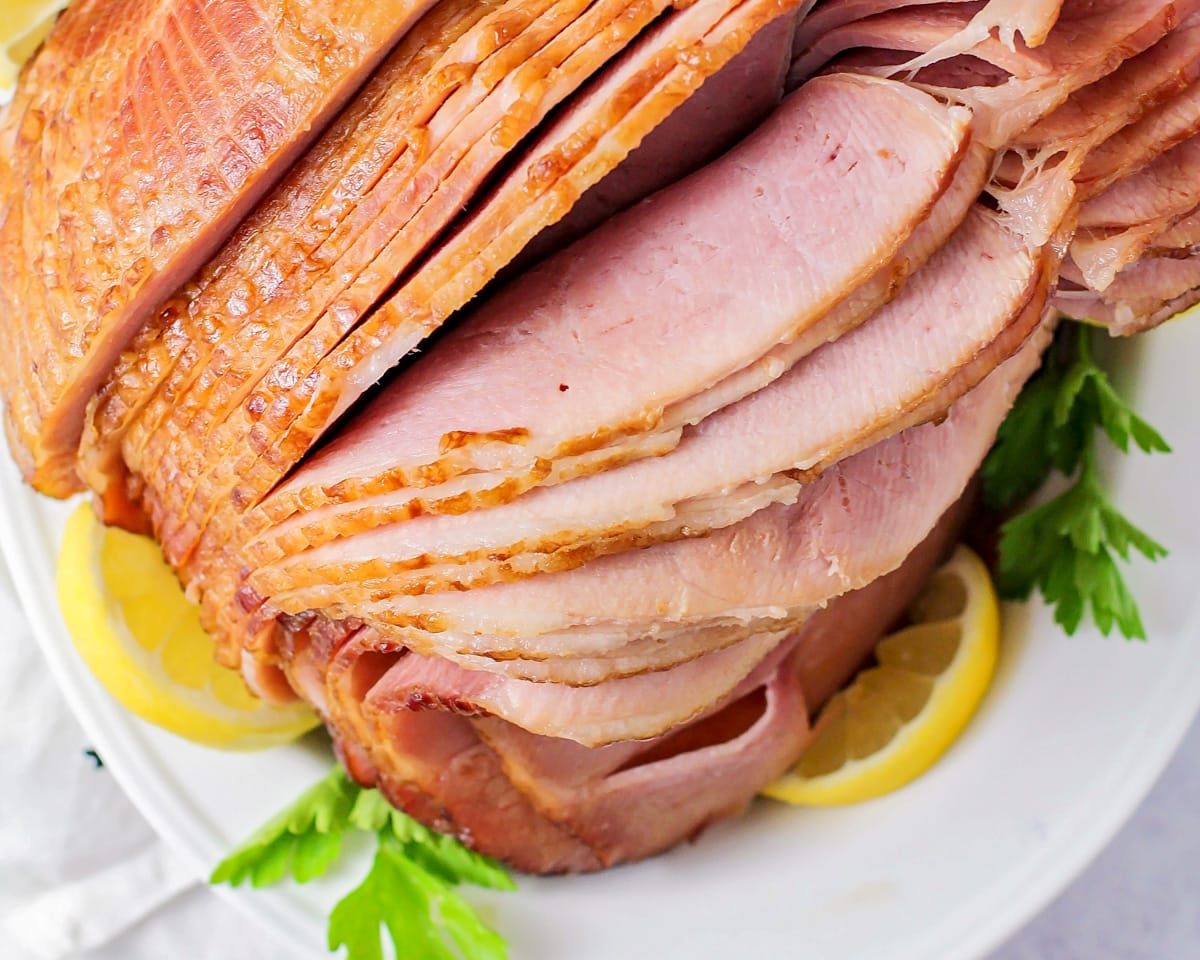 Storing info
STORE any leftover crockpot ham in an airtight container in the fridge for up to 5 days.
FREEZE. Once cooled, wrap in plastic wrap and tinfoil, or freezer bags, and freeze for up to 3 months.
Leftover ham is great for sandwiches, soups, casseroles or bakes. If you know you're going to use it in a recipe that calls for diced ham, like Scalloped Potatoes and Ham, Ham and Bean Soup, or Cheesy Ham Chowder, dice it up before putting it in the freezer – for convenience down the road!
To reheat. Pop it in the microwave, or wrap the slices in foil and heat in the oven at 275°F, until warmed through.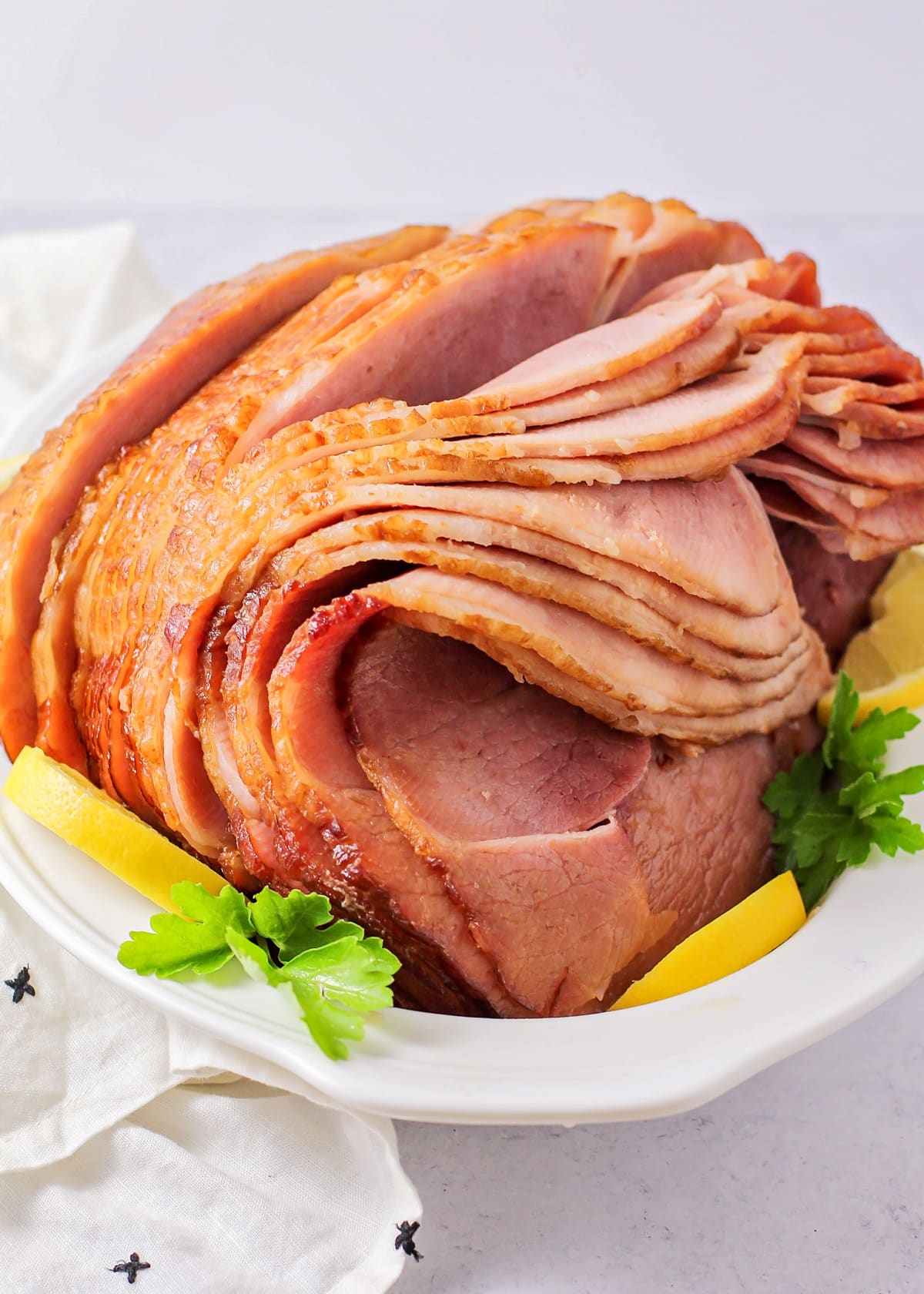 For more ham recipes, check out:
Add your ham to a greased slow cooker, cut side down.

Rub 1 cup brown sugar all over the ham and then pour the syrup and pineapple juice over the top.

Cook in slow cooker on LOW heat for 3-4 hours.

Remove excess liquid in slow cooker into a pot. Add remaining brown sugar and bring to a rolling boil. Pour over the sliced ham and cook on warm for an additional 30 minutes to an hour. Remove to a platter and garnish with fresh herbs.