These light and fluffy pumpkin muffins are the best fall muffins you will make this season! This recipe can be used as a base to create variations with chocolate chips, nuts, seeds, glaze, and cinnamon sugar!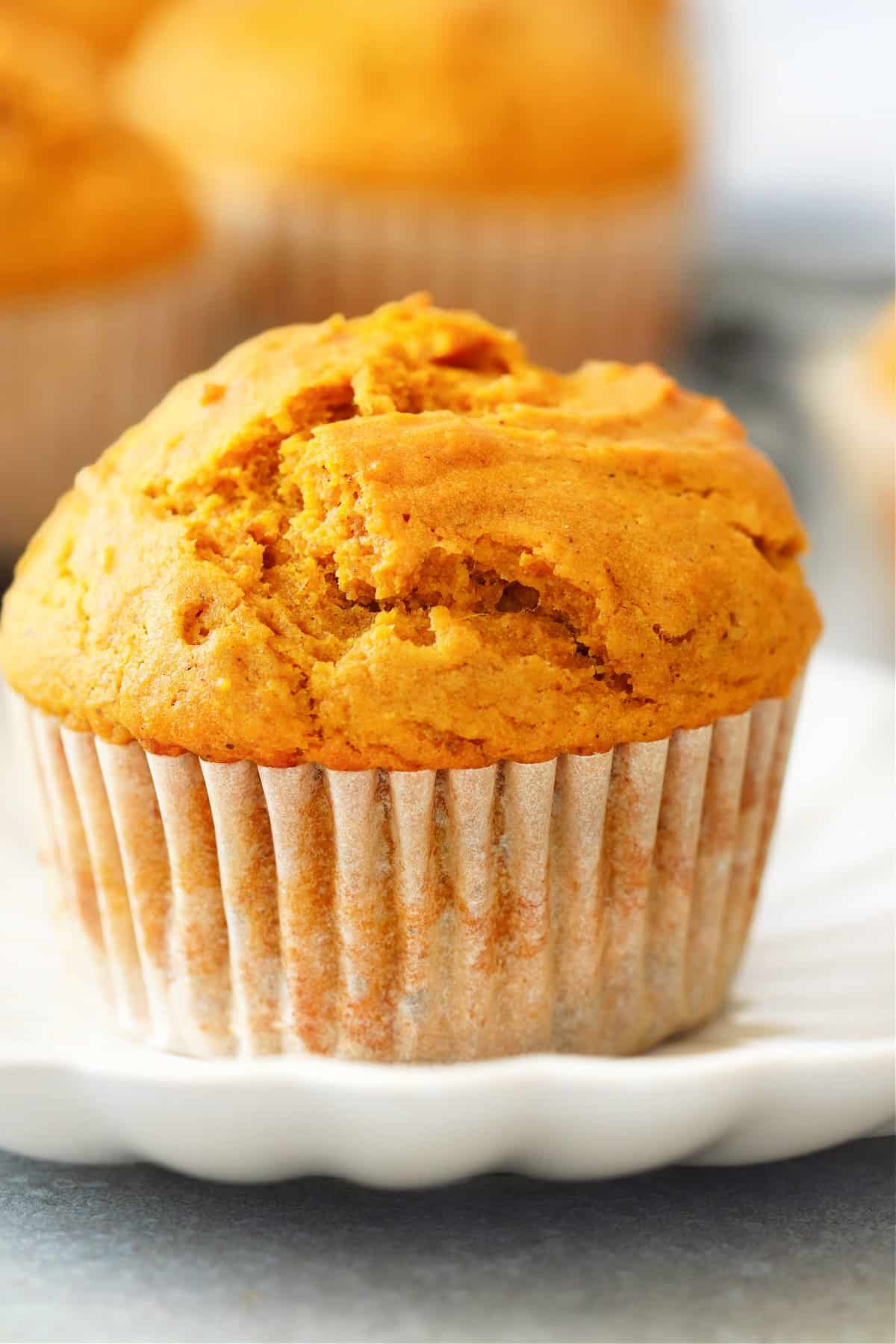 Why You'll Love This Recipe
Fall is here and so is baking with pumpkin! Since I make muffins for my family every weekend, it was time to pull out the pumpkin spice and pumpkin puree and whip up my favorite, easy, and overall the best pumpkin muffins ever!
This recipe could not be easier. Whisk dry ingredients, whisk wet ingredients, combine all mixtures together and bake! The result: fluffy, soft, moist muffins with perfect high tops. Just like every muffin should be. The best part about this recipe is that you can use it as a base and add chocolate chips, nuts, and seeds, glaze them or top them with cinnamon sugar. Enjoy!
What You'll Need: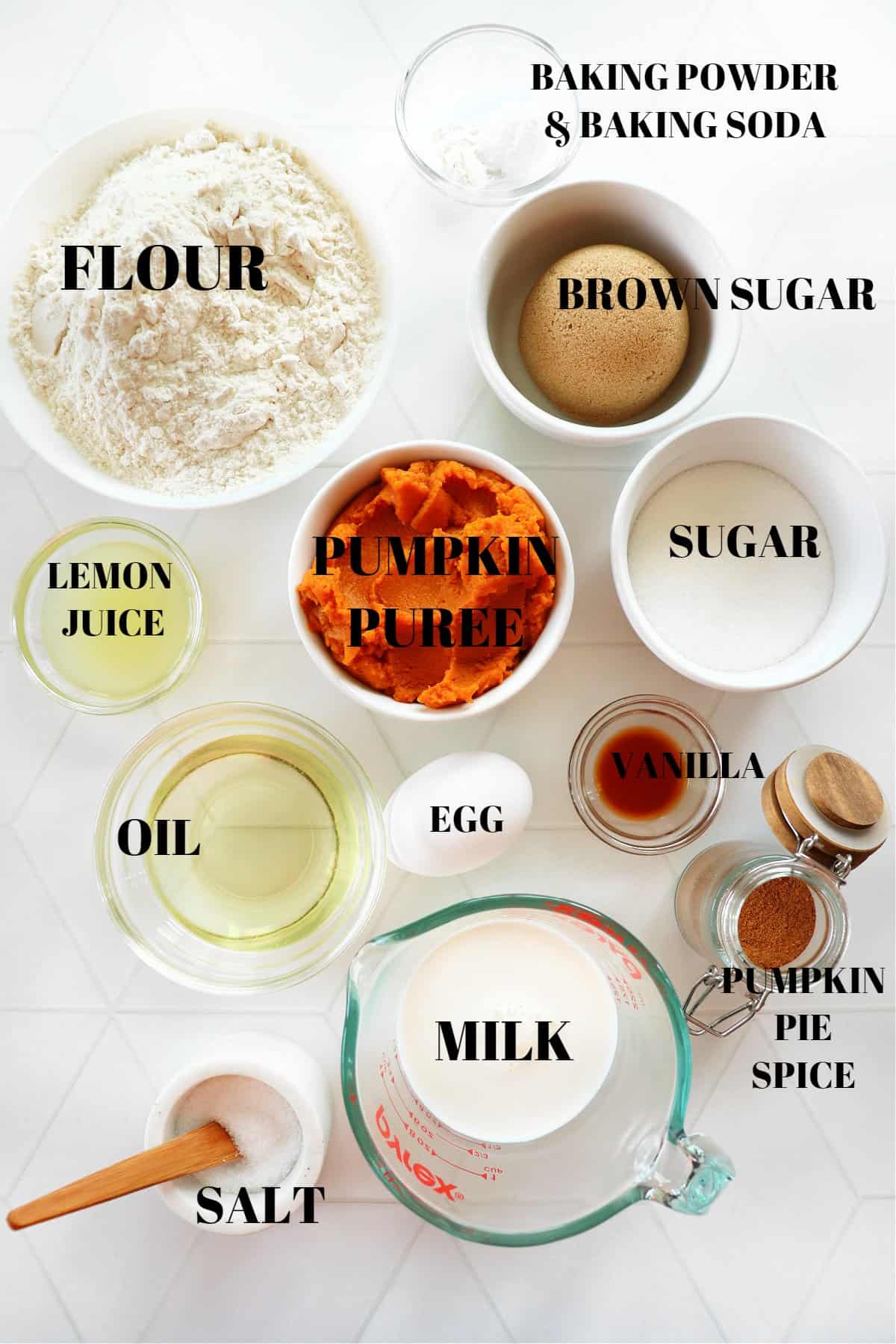 pumpkin puree: make sure you are using 100% pure pumpkin puree, not pie filling;
milk: needed for making homemade buttermilk; half and half is even better than milk for this purpose;
lemon juice: the acidic ingredient that will help us turn milk into buttermilk;
egg: to bind the ingredients together;
vanilla: because no muffins should be made without vanilla extract;
flour: all-purpose, fluffed before measuring;
baking powder and baking soda: necessary for proper rising and browning of the muffins;
salt: to balance the flavors;
brown sugar: adds rich flavor to the muffins;
granulated sugar: sweetens and helps the muffins brown;
pumpkin pie spice: to give the muffins the signature pumpkin treat flavor.
How to make pumpkin muffins?
Whisk dry ingredients in a mixing bowl.
Whisk wet ingredients in another bowl or a large glass measuring cup.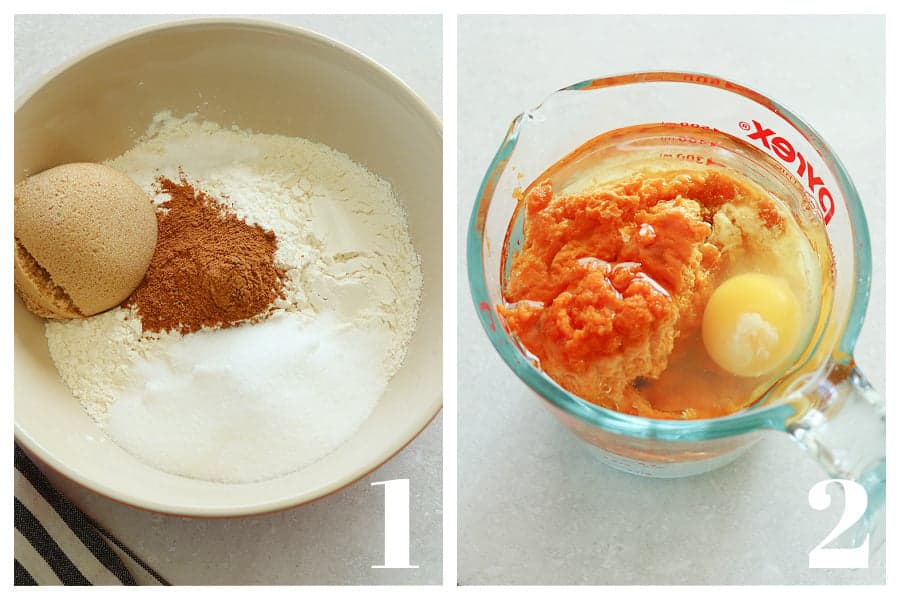 Preheat the oven to 400 degrees F.
Line the muffin pan with parchment liners.
Pour pumpkin mixture into dry ingredients and stir with a wooden spoon until combined. Do not overmix!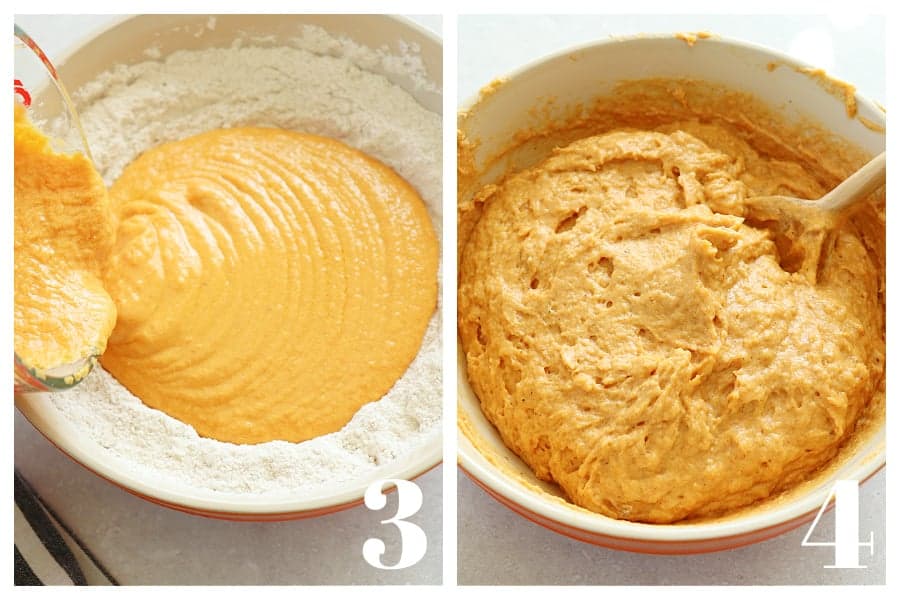 Scoop the muffin batter into the prepared muffin pan.
Bake muffins for 7 minutes. Without opening the oven, lower the temperature to 375 degrees F and bake the muffins for 12 to 15 minutes more.
Check muffins with a toothpick or a dry spaghetti noodle. If there are no crumbs on the pick, the muffins are done.
Cool muffins completely.
Helpful Tips!
Use a spring ice cream scoop to divide the batter into a muffin pan. It helps scoop equal amounts and the spring release helps fill the pan.
Baking muffins at a higher temperature for the first several minutes helps create the domed tops. Every muffin should have a high domed top!
Mixing milk or half and half with lemon juice (or vinegar) makes a homemade version of buttermilk. This ingredient helps produce fluffy muffins!
What can I add to pumpkin muffins?
Treat this recipe as a base and play with it by including add-ons or toppings. Here are some suggestions:
chocolate chips or chunks
nuts or seeds
cream cheese center (mix 2 ounces of softened cream cheese with 1 tablespoon of powdered sugar and drop a teaspoon of this mixture into the center of each muffin before baking);
simple sweet glaze like in my cranberry muffins;
cinnamon sugar topping (sprinkle it over muffin batter just before baking).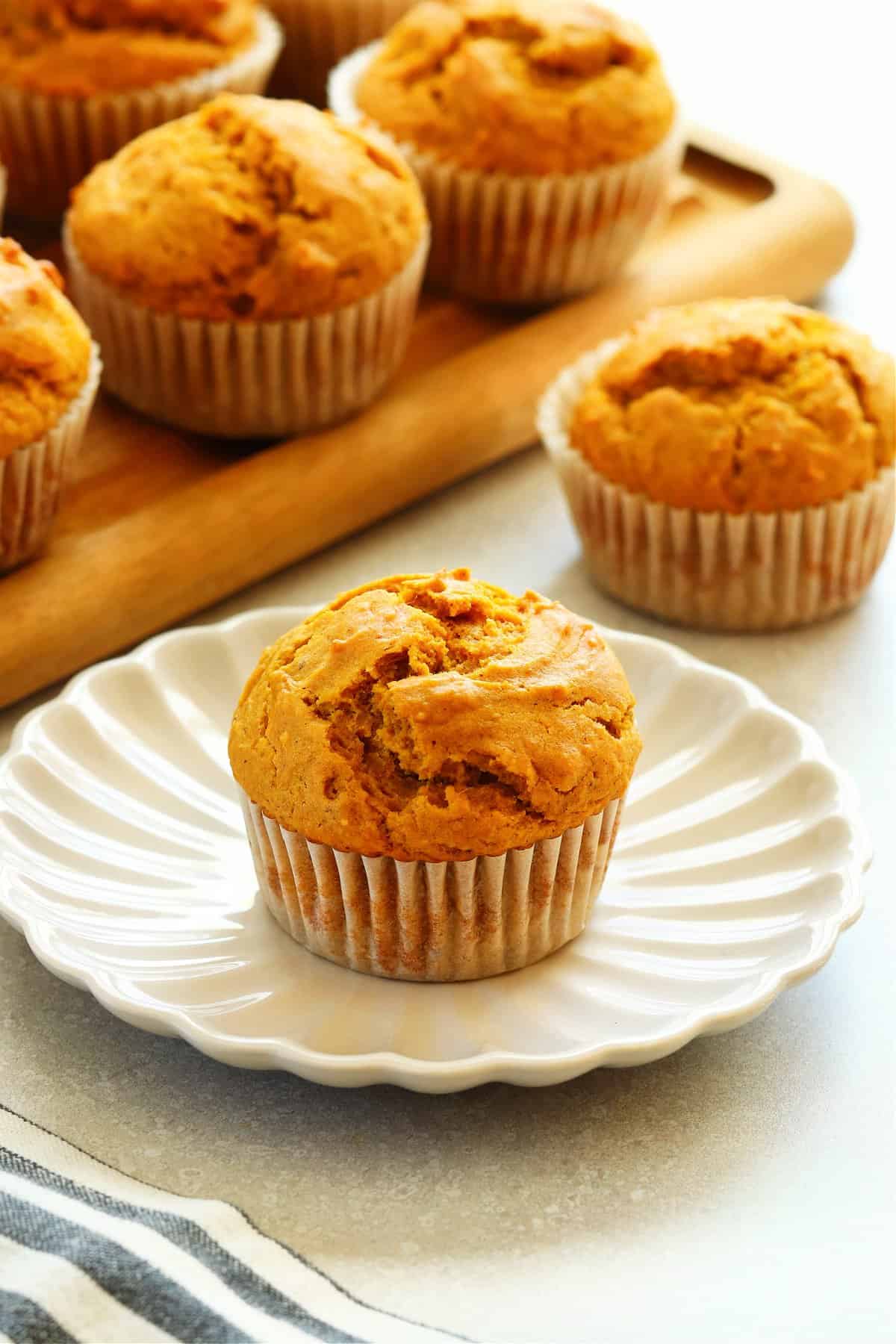 Recipe FAQs:
How to store pumpkin muffins?
I prefer to store my pumpkin muffins in the fridge because they are moist. If it's warm in your house, I suggest storing them in a cool place, like the fridge. If you know the muffins will get eaten the same day, keeping them on the counter is just fine.
Can I use pumpkin pie filling in this recipe?
Please don't. Pumpkin pie filling and pumpkin puree are two different things. Pie filling has pumpkin puree plus other ingredients like eggs, spices, etc. For this recipe, use 100% pure pumpkin puree. You can use canned or homemade.
Can I use coconut oil in this recipe?
Absolutely! Use grapeseed oil, coconut oil, or any other oil you like to bake with. You can use melted butter as well!
What baking cup liners should I use to make muffins?
I have favorite muffin liners that I discovered 2 years ago and they were a game-changer for me! I use the parchment paper liners from PaperChef. Forget the cutesy liners from craft stores or the cupcake section. The muffins will stick and most likely the liners will show grease spots. The parchment paper liners are the way to go!
Can I freeze these muffins?
Yes! Muffins freeze very well. Place them in a freezer-safe bag or a container and freeze them for up to 6 months.
More muffin recipes:
If you like this recipe and make it, let me know in the comments below! Don't forget to rate it if you enjoyed it!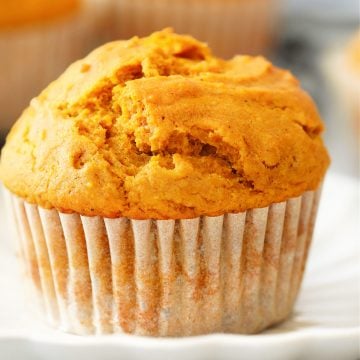 Pumpkin Muffins
These light and fluffy pumpkin muffins are the best fall muffins you will make this season! This recipe can be used as a base to create variations with chocolate chips, nuts, seeds, glaze, and cinnamon sugar!
Instructions 
Preheat oven to 400° Fahrenheit. Line a muffin pan with parchment paper liners. Set aside.

In a large mixing bowl, whisk together flour, baking soda, baking powder, salt, both sugars and pumpkin pie spice.

In another bowl or a large glass measuring cup, stir together milk and lemon juice. Let it sit for a few minutes until it curdles. You just made homemade buttermilk!

To buttermilk, add pumpkin puree, oil, vanilla and egg. Whisk until smooth.

Pour the pumpkin mixture into dry ingredients in a bowl. Stir with a wooden spoon until you can no longer see the flour mixture. Do not overmix. Do not use a mixer.

Divide muffin batter among the liners in muffin pan. I use a spring ice cream scoop. You should have enough for exactly 12 muffins.

Bake the muffins for 7 minutes at 400° F.

Next, without opening the oven, set the temperature to 375° F and timer to 12 more minutes. Check the muffins with a toothpick. Instert it into the center of each muffin. If it comes out clean, the muffins are done.

Remove pan from the oven and let the muffins cool for 5 minutes. Then remove from pan and set on a cooling rack or cutting board to cool completely.
Notes
If you don't have a toothpick, use a dry spaghetti noodle to check the muffins!
Don't use colored cupcake liners to make the muffins. They will stick! Use parchment liners. They never fail me!
To properly measure flour, whisk it first in the container you store it in. Then scoop with a spoon into the measuring cup and level the top with a butter knife. If you dunk the measuring cup into the flour, you will end up with too much flour and the muffins will be dense.
You can use apple cider vinegar in place of lemon juice to make the buttermilk.
Please note, that the nutrition value can vary depending on what product you use. The information below is an estimate. Always use calorie counter you are familiar with.
Nutrition
Calories: 148kcal | Carbohydrates: 32g | Protein: 3g | Fat: 1g | Saturated Fat: 0.4g | Polyunsaturated Fat: 0.2g | Monounsaturated Fat: 0.2g | Trans Fat: 0.002g | Cholesterol: 15mg | Sodium: 179mg | Potassium: 118mg | Fiber: 1g | Sugar: 14g | Vitamin A: 3215IU | Vitamin C: 1mg | Calcium: 41mg | Iron: 1mg